Welcome to PERLE ET DRAGONS -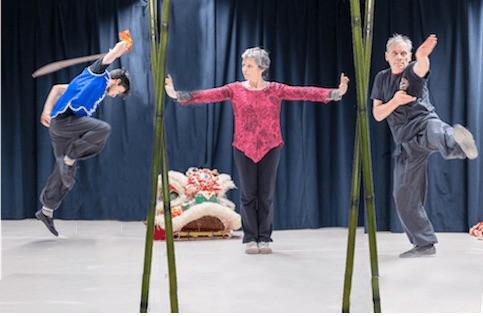 Practicing with Fabien, Saline et Maoni à Perle et Dragons, means perfecting yourself with a time-tested health system that keeps you vibrant and strong, whatever your age; it is practicing intense or relaxing physical training, a stimulating and effective traditional art that will give you everything you need.
Practicing at Perle et Dragons, means joining a dynamic school that relies on more than 38 years of experience, it means practicing regularly, in a very friendly atmosphere conducive to personal progress.
Fabien, Saline and Maoni, qualified and experienced teachers, surround everyone with the attention they need to succeed, so that each student receives the direct energy of the lineage of the great Martial Arts Masters of Pearl and Dragons. Maoni their sons also becomes an instructor especially for children
To integrate Perle et Dragons, is to receive a heritage, a system that transforms body and mind. Each student is part of a personal progression path, relaxed but nevertheless motivated and committed.
Classes and courses in Chi Kong and martial arts such as Tai Chi Chuan, Kung-Fu and other Self-defense are primarily aimed at improving health. As such, it includes dynamic training, aimed at developing the physical condition and technical qualities of practitioners. The traditional Chinese lion dance can also be taught, knowing that Fabien and Saline have participated in many events, weddings, birthdays and grand business openings. Fabien et Saline ont participé à de nombreux événements, mariages, anniversaires et grandes ouvertures d'affaires.
If this presentation suits you, Fabien, Saline and Maoni are willing to share their experience and knowledge of Chinese health arts and martial arts. They welcome to Perle et Dragons all those who share a sincere desire to learn, to improve their lives, in a spirit of trust and nobility.
Fabien and Saline Latouille and the Perle et Dragons association since 1988.
Fabien was born in 1964. Director, screenwriter, choreographer and composer.
Saline was born in 1970. Author (books, practice manuals…), Author, composer and performer of the group" Saline et son Jules"
Fabien and Saline Latouille have been practicing and transmitting Chinese martial arts for over 38 years. Their fine understanding of Chinese Martial Arts is largely rewarded by the support and friendship of the greatest masters of America and Asia who took them as disciples. Fabien and Saline's gifts have since been expressed and flourished. United in their common passion, they transmit culture, the arts of longevity and philosophy through writings, seminars, festivals, films and videos, as well as through direct teaching in the form of group lessons and private lessons.
Fabien has participated in several films and is a friend of several martial stars. He is also European champion (First Italian championship in traditional form and 3rd in sanda), Chinese championship (Hunnan, Hong Kong) and U.S.A. (California and Utah). Auxiliary Assistant Defense Police of Changsha and Hong Kong (Assistant Masters Liu li hong, Li Deyu)
Maoni Latouille rejoint l'Association et enseigne maintenant aux enfants et aux adultes. Né en 2004, il voyage dès l'âge de deux ans avec ses parents vers des maîtres en Asie et aux U.S.A et finit par suivre le même chemin des arts martiaux.​